Just one train station away from Dakabin Crossing, the University of the Sunshine Coast's (USC) newest campus at Petrie will house an initial 1,000 students by 2020.
Funding for the University of the Sunshine Coast (USC) Moreton Bay foundation building at Petrie was secured in 2017 through a $121 million loan from the Federal Government. USC obtained the site after it won the tender to increase access to tertiary education for the Moreton Bay region.
The three-storey foundation building of USC Moreton Bay was designed by architecture firm, Hassell Studio. National private commercial builder, Hansen Yuncken, began piling works in September 2018, marking the start of stage one of USC Moreton Bay – covering more than 16,000 square metres of floor space.
Just a 10-15 minute drive from Dakabin Crossing, or one train station ride away, USC Moreton Bay is planned to open for Semester 1 in 2020. The foundation building will include a large lecture theatre, multi-purpose rooms, and a stunning open auditorium suitable for community events. The design is catered for rapid growth of the student population over the campus's first three years.
The campus will be a game-changer for the region, offering local residents unprecedented access to tertiary education.
USC Vice-Chancellor Professor Greg Hill said, "Moreton Bay is one of Queensland's fastest-growing regions, but has been the only region of its size in Australia without its own full-service university campus," Professor Hill said.
"USC Moreton Bay represents an exciting opportunity to harness the region's potential, and significantly boost educational opportunities for local residents."
Professor Hill said USC already had a strong connection with Moreton Bay, with more than 1,000 new students from the region starting at the University's campuses on the Sunshine Coast and Caboolture this year.
He said USC Moreton Bay's initial undergraduate, postgraduate, and research programs would have an employment focus to ensure benefits flow quickly to the wider community.
The new university campus will have positive knock-on effects for the nearby surrounding area. USC Moreton Bay is aiming to attract 10,000 students within its first decade of operation, a target that has a lot of local and interstate buyers very interested.
What does the future hold in 2020 for USC and the nearby areas?
When the campus opens in 2020, it will offer almost 50 undergraduate degrees, and students will be able to choose from a broad range of studies, including business, nursing, teaching, biomedical science, psychology, communication, recreation and outdoor environmental studies.
USC will also introduce three new degrees — in computer science, electrical engineering and mechatronics. An additional 16 degrees will be introduced in 2021 and 2022.
As the area builds up, the demand for properties will rise, but there is currently little supply to meet demand. Homeowners have held off selling, driving prices up.
There is a projection of 200,000 more Moreton Bay residents in the next 20 years, with a newly established rail corridor opening up the bay area – 85 new residential development projects, including Dakabin Crossing, approved near the rail corridor since 2013. Whilst development has increased along this corridor, there are still 1,800 hectares of greenfield available in Moreton Bay Regional Council that have been designated for development.
Moreton Bay Regional Council is Australia's third largest Council with 434,000 residents. In the last decade alone, there has been an increase of more than 100,000 people. This trend is predicted to continue with a forecasted population of 530,000 in 2026 and 618,000 by 2036. This would make the population of Moreton Bay Regional Council greater than some other Australian states. This population growth has been one of the main drivers of economic growth and will continue to be a significant contributor for the next few decades.
Update 25 June 2019:
The Mill at Moreton Bay is continuing to gather pace with construction well under way on multiple fronts.
Construction on USC's Foundation Building is progressing well with 170 construction workers per day on site. The concrete structure is now complete and installation of the roof has commenced. For more information on USC Moreton Bay, including aerial vision of the works and a virtual reality tour of the Foundation Building, see The USC Moreton Bay Campus.
The Gympie Road intersection upgrade has reached an important stage with the most of underground works completed and laying of asphalt pavement commencing. This upgrade widens a section of Gympie Road and creates a new entrance for The Mill at Moreton Bay, opposite Wyllie Park.
Council is also undertaking construction of roads and a major stormwater drainage system on the site. The stormwater drainage system includes a large water quality improvement basin that, when completed, will assist in removing pollutants from the stormwater prior to discharge.
Access to the Petrie Station car park is being maintained throughout construction to minimise disruption to commuters.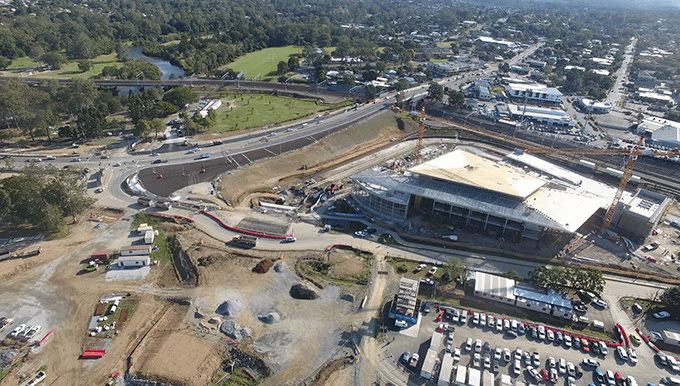 University of the Sunshine Coast, Moreton Bay Campus construction site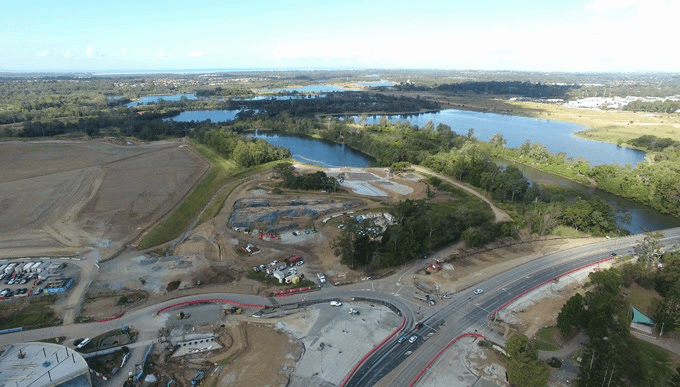 Intersection of Gympie Road and Paper Avenue, opposite Wyllie Park rest area
Update 19 September 2019:
Construction on The Mill at Moreton Bay project is continuing at pace on multiple fronts. Moreton Bay Regional Council has completed Stage 1 bulk filling activities and the new entrance to The Mill and Wyllie Park has been opened to traffic whilst work on the Gympie Road intersection upgrade continues.
The pedestrian and cyclist detour will remain in place until the landscape planting of the road embankment areas has been completed, at which time the new shared pathway alongside Gympie Road will be opened.
As part of these works, construction of roads and services is well underway with the relocation of essential utility services to the site being completed. The major stormwater drainage system including a large water quality improvement basin is nearing completion.
Landscape planting of native shrub and tree species is progressing while preparations are being made for the next round of major works, which includes the construction of a regional park facility surrounding the oval. Construction of the regional park is planned to commence later this year.
Access to the Petrie Station car park will continue to be maintained throughout construction, to minimise disruption to commuters.
The construction of USC Moreton Bay Campus has reached a significant stage, having already passed the halfway point. In August 2019, executives, constructors and concerned stakeholders were at Moreton Bay to witness the complete fix of the campus' roof. This was a landmark achievement, one that signified that the project was near completion despite earliest rocks were just piled in September 2018. However, as the chief contractor at USC, Dr Scott Synder sought to clarify, whilst the roof installation was undoubtedly the most visible of all constructions, it wasn't the only focus – a lot more was being done on the foundation building.
Until August, construction activities had been largely focused on the concrete structure of the three-storey building that will be occupying over 16,000 square metres of floor space. However, the subsequent months have reflected increased efforts on the inner structures themselves.
The Moreton Bay campus is set to further improve functionality this semester and if anything, the latest signs show these plans are well underway. Late last year, Dr Synder stated that "Academics and professional staff due to work there next year have been on a tour and they're excited to see it all coming together." A 10/15-minute drive to the site will convince that plans are, indeed, in motion.
"We are further along than halfway, and the fit-out is progressing well. The ground floor of the teaching spaces all have glazing installed, the partitions are in and the services are well advanced. Soon the scaffolding will come down from inside the atrium to reveal 'The Rise' – the central indoor meeting steps which will be quite spectacular".
Following this, the classrooms and lecture halls have all started to take shape, reinforcing belief in Scott's words. Anyone would see that the construction firm, Hansen Yuncken, is fully committed to the quick completion of this project. There are over 200 workers on-site daily, with the experts contributing greatly to the upcoming success of the project.
Features of the campus are more prominent now: there's a 480-seat lecture theatre, engineering labs, and a comprehensive library. As things stand, these structures are well in place and there is no need for advanced constructions anymore. In fact, as Semester 1 starts in late February, enrollment forms are now available and qualified students may now seek applications into the scholarship programs.

The Moreton Bay USC Campus is the first university outlet in the region to boast of the world-class infrastructures it offers. In addition to the features mentioned above, the campus offers full range service shops, student support, state-of-the-art technologies worth $10 million and top-notch nursing simulation laboratories that support a maker space wherein developed chemicals can be tested.
Dakabin Crossing will have the capacity to effectively accommodate the number of students estimated to influx the Moreton Bay region as it will provide 150 accommodation spaces for those in need of hassle-free and affordable student accommodation. The campus is one-train stop or less than 20 minutes' drive to Dakabin Crossing – a major plus for tenants and property owners. The entire Dakabin community will receive great benefits from the presence of the university in this precinct.
The accommodations are fully furnished including all study essentials and each residence is serviced once a week, assuring students maximum comfort during their stay. This effectively cuts down on costs and provides safer, hassle-free housing opportunities. Dakabin Crossing is the only residence of its kind at such close proximity to the world-class USC campus.
The new USC campus will provide 50 study options and the capacity to grow to 10,000 students by 2030.
To learn more about the University of the Sunshine Coast, visit their website at: https://www.usc.edu.au.
For more information about Dakabin Crossing townhouses available for sale close to the new campus, download a brochure today.