May Construction Update
Construction of Stage 2B townhouses is complete! Just some minor finishing touches scheduled, including a thorough white-glove clean for that extra sparkle and then we can move onto finding the right tenants to make the houses a home. The formal processes are underway with lodgement of plan sealing commencing with the council, with titles and settlements to follow. Owners are looking forward to moving as early next week. We are inundated with tenant applications for our investment properties.
With Stage 2B coming to fruition, works on stages 3A and 3B will soon follow as well as the stunning resort-style swimming pool which is anticipated to be completed this year.
Fresh Vision
We have also been busy creating amazing renders that reflect the vision of the precinct with justice. Here's a sneak peek of the draft imagery that is still a work in progress for your visual pleasure.
Overview of Entire Precinct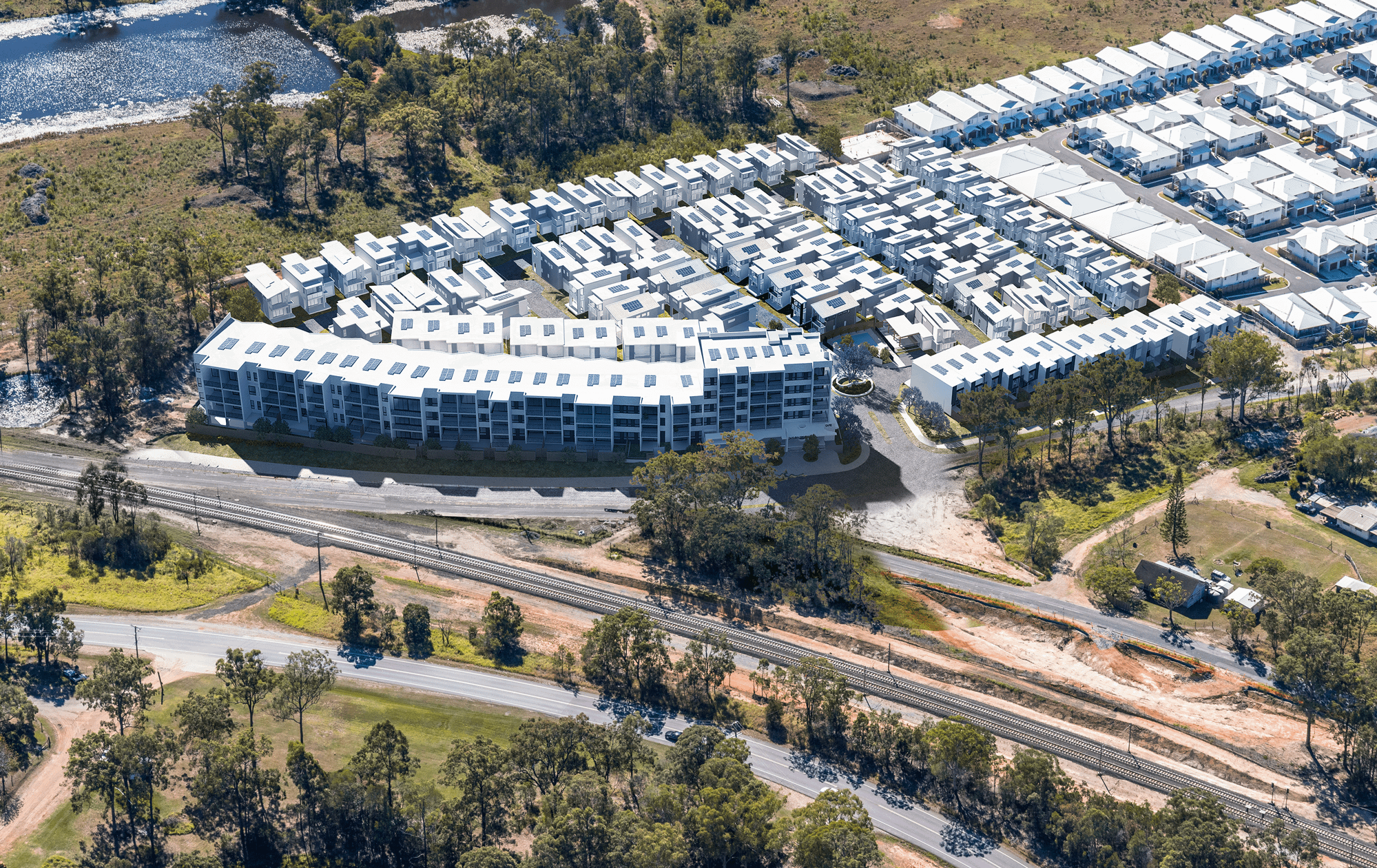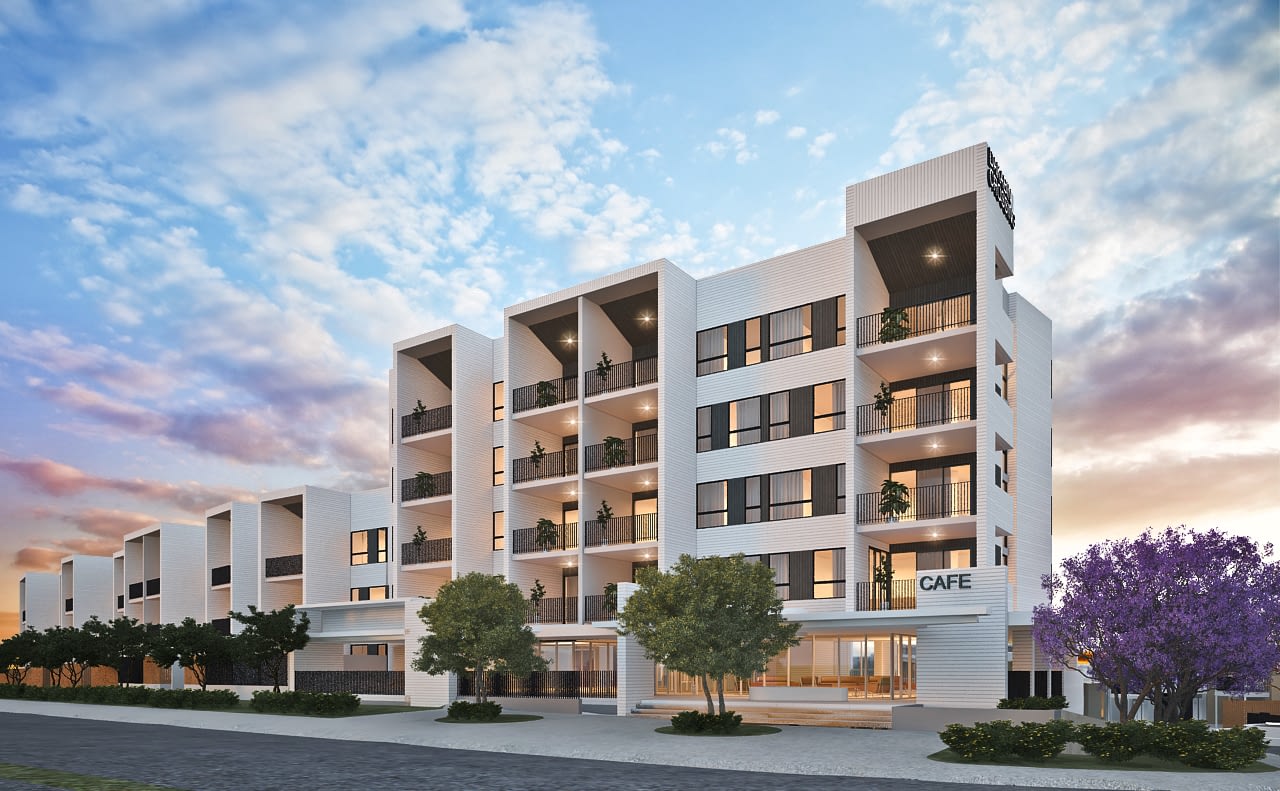 April Construction Update
18 Townhouses within Stage 2B are almost complete.
Stage 2B Update
Units 21-26: Six of our townhouses are now completed with minor defects starting to take place. Carpets, cleaning, driveways, landscaping and gardens have now been completed.
Units 27-29: Carpets, plumbing and electricals have been completed with door handles, landscaping close to completion with 80% done – just waiting on turf, plants and mulch.
Units 30-34: Plumbing, electricals, painting, door handles are completed. Carpets are yet to be laid. Landscaping on these units is also close to completion with 80% done – just waiting on the turf, plants and mulch.
Units 35-38: Completion projected by end of next week with painting, electricals, plumbing, carpets and landscaping to be scheduled.
Once construction of the last six townhouses is complete, the asphalt for the road in front will commence and be completed by end of May.
Settlement Process for Stage 2B
Rostron Carlyle has emailed a notice to all buyers during April 2020 to start the process on pre-settlements. We anticipate practical completion of all 18 units by the middle of May with plan sealing and titles to follow six weeks after. Settlements will happen as soon as titles are registered.
The Dakabin Crossing community will soon grow with an additional 18 owners taking possession of their properties during June/July which will bring the ratio of home-owners and investors to 50/50. Linzen Real Estate team has been in contact to arrange inspections for the middle of May and valuations soon after that.
Stage 2B Move-In Day
To make sure our new owners feel at home and welcomed to the Dakabin Crossing community, we will be hosting an Open Day on the 25th of July. This will be a great opportunity for current residents, new residents and investors to connect and have a group walkthrough of the new project developments.
We will also be sure to continually maintain strict adherence to the current social distancing regulations and plan the event accordingly. If by July, the restrictions have lifted, we hope to cater with a sausage sizzle and have face painting for the kids. We would love to see you there.
Stage 3A Update
Stage 3A of our master plan community is gearing up for construction to commence at the end of June 2020 with the civils and retaining walls already completed. Construction time for this stage is anticipated to take 27 weeks. Three out of 19 units are sold and have gone unconditional. With our new website and marketing strategies in place, we do not foresee any problems in selling out stage 3A by August 2020.
New Commercial Precinct
Dakabin is expanding! A new Woolworths grocery store and retail centre are opening in mid-2020 just down the road from Dakabin Crossing at 1 Alma Road.
This vibrant retail centre located at the intersection of Old Gympie Road, Plantation Road and Alma Road is designed for everyday needs and will be a great asset for Dakabin Crossing residents. The Dakabin community is linked to the North Lakes business precinct with close, easy access to the M1 motorway and the Dakabin train station. This location will fast become the centre of choice for the Main Trade Area.
Due for completion in mid-2020, this retail centre will boast a 3,300sqm full-line Woolworths supermarket, onsite parking for 260 cars including disabled and parent parking and opportunities for an additional 15 speciality stores. The retail centre will also accommodate several pad site opportunities, including a DA approved site for a childcare centre. We are seeking a broad mix of retail, dining, medical and service-based stores that complement the retail mix and create a shopping destination everyone will enjoy.
Dakabin Train Station Upgrade
The station upgrade is designed to achieve independent accessibility, meaning that all train platforms can be accessed independently via paths, ramps or lifts, without the need to use stairs
Features of the upgrade include:
A new pedestrian footbridge with lift access.
A raised section of platform encompassing the core zone and assisted boarding point.
Improved accessible parking.
Upgraded hearing augmentation loops and tactile platform surfaces.
Upgraded security cameras and lighting around the core zone.
New wayfinding and platform signage around the core zone.
A new multi-storey parking facility will replace the existing Thompson Road car park and will be delivered concurrently with the accessibility upgrade. Queensland Rail is working with the Department of Transport and Main Roads on the upgrade of the precinct including parking and a new bus interchange.
Changed Parking Conditions
Parking conditions were updated in April. While we recognise changes during construction will impact customer parking, these are necessary to safely deliver the upgrade. Earlier this year, Moreton Bay Regional Council (MBRC) reduced kerbside parking around the station precinct. In the coming weeks, customers and the community can expect to see a progressive closure of the Thompson Street car park in preparation for major construction works.
In partnership with Queensland Rail, MBRC has made available 150-weekday parking spaces in nearby Bob Brock Park. This temporary arrangement will help alleviate some of the customer parking impacts during construction. However, with the anticipated pressures on parking during construction, we encourage customers to consider travelling from other stations with greater parking capacity, where possible. Find out more here.
March Construction Update
Update on 2B Construction
Our beautiful precinct is one step closer to being realised and we are doing everything in our power to escalate the construction. We are well on track to complete all 18 units by May 2020 and will start plan sealing and titles after building certification. Our solicitors will be in contact to start the process of settlement during April.
We have put all possible measures in place to ensure we meet our deadlines, however, we don't have control over the Coronavirus and if we go in complete lockdown, it might impact on our timeline. We will stay in close contact with regular updates over the next couple of months to ensure continuity. In the meantime, don't hesitate to get in touch if there's any way we can support you at this time.